TRIP & Prezzo: Bringing calm to British summertime
Enjoy solo or mixed into our exclusive TRIP x Prezzo cocktail
Our Collaboration
Prezzo & TRIP
Our Collaboration
Prezzo & TRIP
Launching this summer, TRIP and Prezzo partner to bring you calm in the chaos of British Summertime. 
TRIP exists to create moments of calm in the everyday chaos. We believe you deserve to feel your best, whenever, wherever. We want to support you on this journey, reminding you that taking care of yourself is productive. 
So we are very excited to share this very special partnership with Prezzo, bringing calm in the chaos this summer. Whether you are nipping out for lunch in the sun, or hiding from the rain we are delighted to bring you a moment of calm with TRIP. 
Pair TRIP's botanical, Great Taste award-winning beverages with your favourite Prezzo dish, and kick back and relax!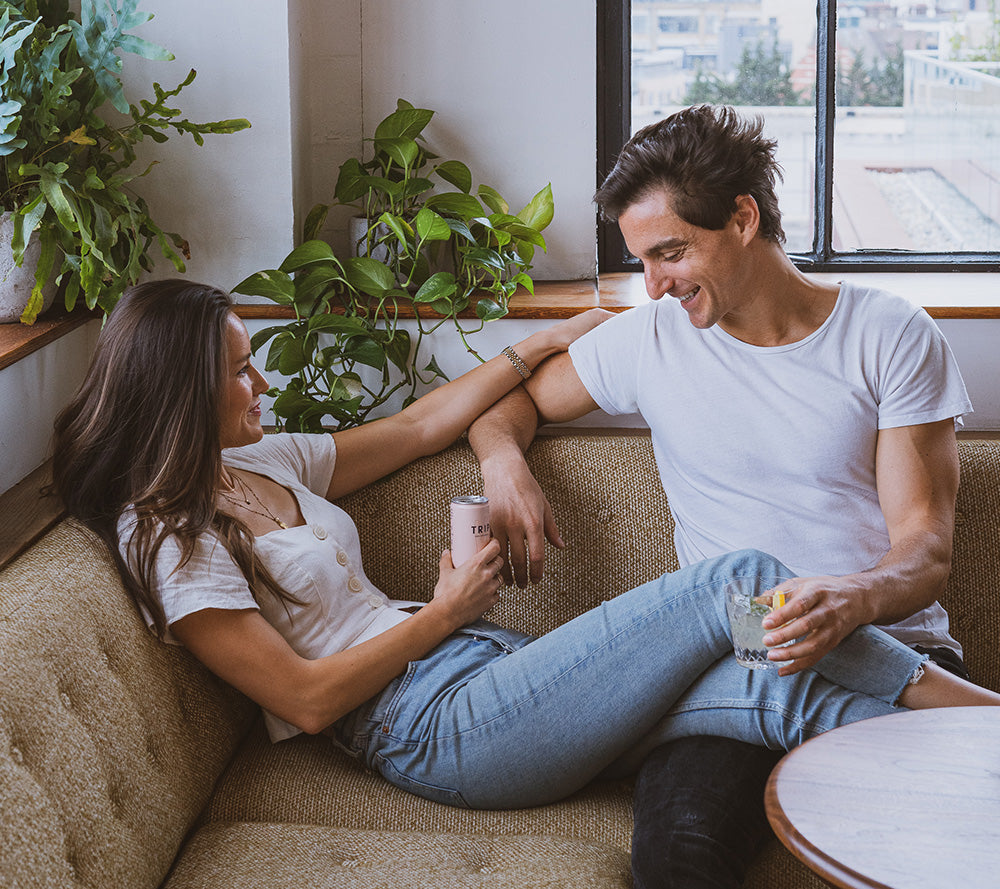 Our story
We created TRIP to share a little bit of calm in the everyday chaos, because we believe that mental health is intrinsic to good health.
TRIP's story started when Dan was injured playing football weeks before our wedding, he couldn't walk - nightmare! We discovered CBD was a game changer and he made an incredible recovery.
We began using CBD for everyday stress created a range of CBD products that tastes delicious and fit effortlessly into our lifestyles, and we hope yours too!
What is CBD?
1
---
CBD (cannabidiol) is the non-psychoactive compound found in hemp plants. Unlike THC (tetrahydrocannabinol), CBD will not give you a high.
2
---
CBD can make you feel more productive, less stressed and more you.
3
---
Our CBD is derived from hemp. It's third-party lab tested to make sure it's THC-free and the highest quality and purity.
4
---
Our CBD is also gluten-free, palm-oil free and vegan - happy days.
FAQ
What is CBD?
CBD (cannabidiol) is the non-psychoactive compound found in hemp plants. Unlike THC (tetrahydrocannabinol), CBD does not get you high.
Will CBD get me high?
No. In the UK, regulation requires CBD to have no more than 0.2% THC (the component in the hemp plant that has psycho-active effects). Our products are quality driven and made in the UK, with no THC.
How does CBD work?
Our bodies have an endocannabinoid system (ECS) - your ECS is a network of tiny receptors found throughout the body that play a crucial role in regulating the body's optimal balance, this may include our sleep, stress, anxiety, immune system, pain and inflammation. So when your ECS is back in balance you may feel more productive and creative, less anxious and stressed.
HOW MUCH CBD SHOULD I TAKE?
The World Health Organisation has not found that CBD has any addictive qualities, so we recommend that customers see what works for them, and increase their dosage as needed.
WHO CAN'T TAKE CBD?
It is advised that pregnant women, women breast feeding or those using prescription medications - consult your GP before use of CBD products. We suggest that the drinks are not suitable for children.
WHEN CAN I USE CBD AND WHEN SHOULD I DRINK TRIP?
Any and all of the time! While dosage is personal, CBD can be particularly popular as part of an overall daily wellness routine. Perfect for an after lunch pick me up, or for calm on the go. CBD doesn't make you drowsy so you can have it anytime of day.
HOW MUCH CBD IS IN A CAN?
Each drink contains 15mg organically grown CBD. Keeping it local, TRIP is made in the UK.
HOW MANY TRIP DRINKS CAN I HAVE PER DAY?
It's personal. You can enjoy multiple TRIPs a day, it's up to you. The FSA recommends not exceeding 70 MG CBD per day.
ARE TRIP PRODUCTS TESTED?
All of our products are third-party lab-tested to ensure the highest quality and purity. These lab results confirm the amount of CBD in our oils and drinks.
ANY EXTRA ADVICE WHEN TAKING CBD?
Identical to energy drinks, customers should be aware that, it shouldn't be used as a substitute for a varied diet and is not intended to diagnose, treat, cure or prevent disease.