CBD Drinks
Meet the UK's favourite CBD drinks - deliciously refreshing, lightly sparkling and infused with natural adaptogens to help you unwind into your best self.

What is a CBD drink?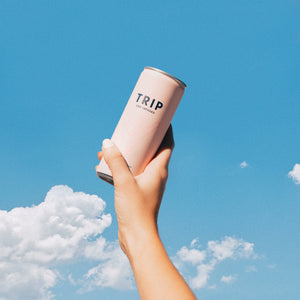 What is a CBD drink?
CBD drinks are beverages that are infused with cannabidiol (CBD), the non-psychoactive element of the hemp plant. CBD drinks have the same benefits as CBD oils or other CBD products but can be a convenient and delicious way to take your dose. Whether you grab a cold can after the gym, or replace your evening glass of wine, it is a delicious way to unwind into your best self.
How long does a CBD drink take to work?
The length of time CBD drinks take to take effect is different from person to person, as much like alcohol or caffeine it depends on a person's metabolism, diet, weight, genetics and more.
Grab a canned CBD drink and try one for yourself or learn more about them here.
When should I drink a CBD drink?
When should I drink a CBD drink?
CBD works with your endocannabinoid system and can help you unwind at any time of the day! Many people have seen real benefits from incorporating CBD drinks into their daily routine, whether that is a TRIP Cold Brew CBD Coffee to start the day with jitter-free energy, a can of Elderflower Mint as an afternoon pick-me-up, a Peach Ginger fix after a hard workout or a Lemon Basil cocktail in the evening. Whenever you choose to incorporate a hemp drink into your routine - TRIP has you covered.