CBD Bundles
Meet our new CBD bundles! Deliciously refreshing CBD drinks, infused with natural adaptogens for stress-free sipping and the 'UK's best CBD oil' as voted by Grazia. Take a TRIP to find your calm!
Powered by natural ingredients, THC-free and third party lab tested to ensure the highest quality and purity - Happy Days ✌️
What is CBD and what does CBD do?
What is CBD and what does CBD do?
CBD, short for cannabidiol, is the non-psychoactive compound found in hemp plants. Unlike THC, it will not get you high. CBD is thought to work with our body's endocannabinoid system (ECS). The ECS a network of cells and receptors that regulates various cardiovascular, nervous and immune functions and helps control how the body achieves balance.
CBD drinks and CBD oils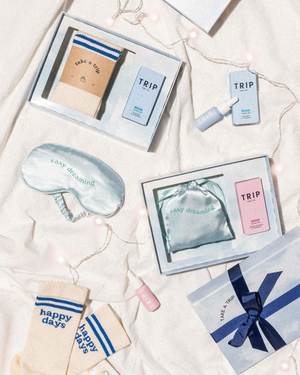 CBD drinks and CBD oils
Find your calm with and take a TRIP to happy days.
Many people have seen real benefits from incorporating CBD drinks into their daily routine, whether that is a TRIP Cold Brew Coffee to start the day with jitter-free energy, a can of Elderflower Mint as an afternoon pick-me-up, a Peach Ginger fix after a hard workout or a Lemon Basil cocktail in the evening. Whenever you choose to incorporate CBD drink into your routine - TRIP has you covered.
The most effective way to take CBD oil is to put a few drops under your tongue and leave it there for a minute, before swallowing. This is the most effective way to ensure absorption. It is common to ask how long this takes to work but this is completely personal and depends on you! Whether you have taken CBD before, your weight and metabolism will all affect how much you should take and how long it takes to have an effect. Start small and increase it over time to see what works best for you