CBD Starter Set
CBD Starter Set
New to CBD or new to TRIP? Our CBD Starter Set includes the UK's number #1 CBD Drinks and best-tasting CBD Oil.
This best-selling CBD bundle includes ELDERFLOWER MINT, PEACH GINGER & LEMON BASIL CBD Drinks (6 or 24 Packs), plus save up to 50% with our ORANGE BLOSSOM Strong CBD Oil (1000mg) ✌️
TRIP Drinks
TRIP Drinks
Meet our award winning drinks, with our 3x Great Taste award winning flavours ft. ELDERFLOWER MINT, PEACH GINGER & LEMON BASIL.
Deliciously refreshing and a convenient way to relax and unwind - we'll drink to that!
TRIP Oils
TRIP Oils
Meet the UK's best tasting oils, infused with camomile for its soothing and calming benefits.
Two delicious flavours, ORANGE BLOSSOM and WILD MINT in two strengths (original = 300mg and strong = 1,000 mg) - happy days.
What is CBD?
1
---
CBD (cannabidiol) is the non-psychoactive compound found in hemp plants. Unlike THC (tetrahydrocannabinol), CBD will not give you a high.
2
---
CBD can make you feel more productive, less stressed and more you.
3
---
Our CBD is derived from hemp. It's third-party lab tested to make sure it's THC-free and the highest quality and purity.
4
---
Our CBD is also gluten-free, palm-oil free and vegan - happy days.
Why CBD drinks are the UK's favourite new alcohol alternative
Alcohol
Hangovers & hangxiety likely
High Calorie:

239 kcal for a pint of beer
190 kcal for a glass of wine

Disrupts healthy sleep
Not always Vegan!
TRIP CBD Drinks
No hangover or hangxiety
Low calorie:

21 kcal or less, per can

No negative sleep effects
100% Vegan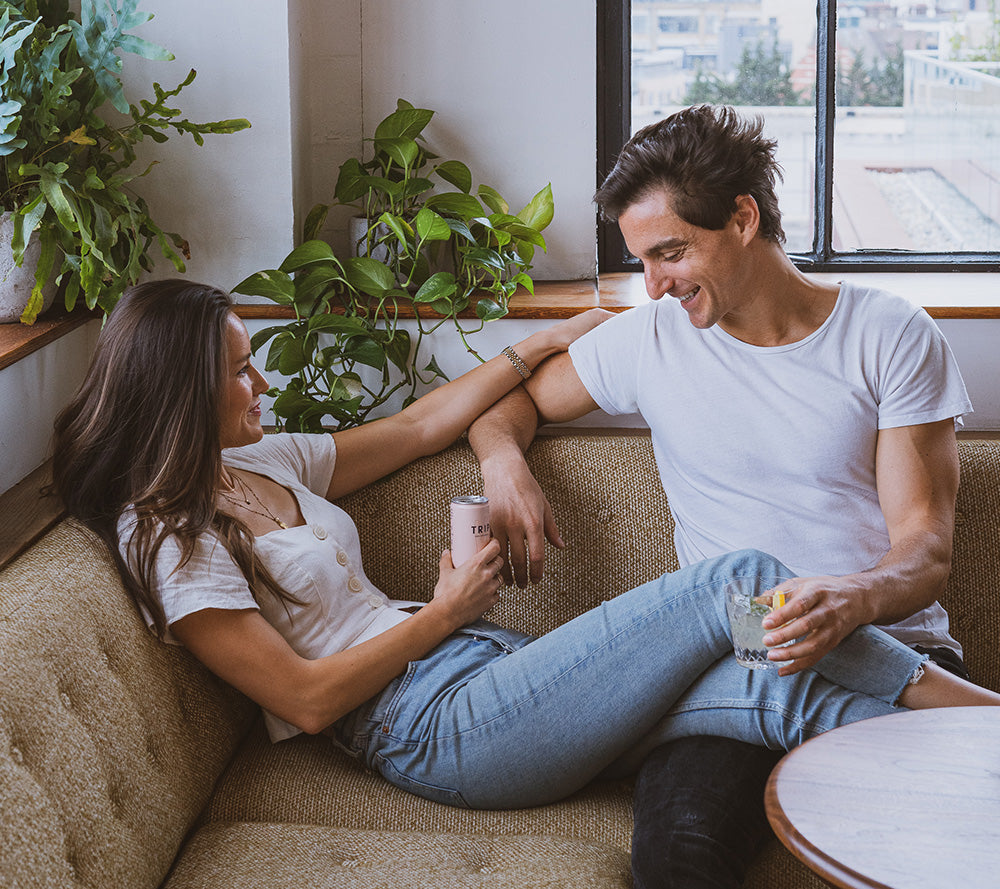 Our story
We created TRIP to share a little bit of calm in the everyday chaos, because we believe that mental health is intrinsic to good health.
TRIP's story started when Dan was injured playing football weeks before our wedding, he couldn't walk - nightmare! We discovered CBD was a game changer and he made an incredible recovery.
We began using CBD for everyday stress created a range of CBD products that tastes delicious and fit effortlessly into our lifestyles, and we hope yours too!
We've loved introducing millions of people to their first CBD experience, and the incredible response from our community is what motivates us - so join us and take a TRIP.
FAQ
What is CBD?
CBD (cannabidiol) is the non-psychoactive compound found in hemp plants. Unlike THC (tetrahydrocannabinol), CBD does not get you high.
Will it get me high?
No. CBD cannot get you high. Unlike THC (the component in the hemp plant that has psycho-active effects), CBD cannot get you high. Made in the UK, our products are made with the highest quality ingredients, with no THC.
Is CBD legal?
CBD is completely legal in the UK, provided it's been derived from an industrial hemp strain that's 'EU-approved' or comes from outside the EU. For CBD to be legal in the UK, it must contain no THC. However, many CBD products on the high street aren't always properly authorised. So when you're looking to buy CBD oil, CBD drinks or other CBD products, it's best to buy them from trusted sources, pharmacies and stores.
How does CBD work?
Our bodies have an endocannabinoid system (ECS) - your ECS is a network of tiny receptors found throughout the body that play a crucial role in regulating the body's optimal balance, this may include our sleep, stress, anxiety, immune system, pain and inflammation. So when your ECS is back in balance you may feel more productive and creative, less anxious and stressed. You can read more about how CBD can interact with the ECS here.
What are Cannabinoids?
Cannabinoids are naturally occurring compounds found in the cannabis sativa plant. The two most well-known cannabinoids are tetrahydrocannabinol (THC) and cannabidiol (CBD), but the cannabis plant produces over 100 cannabinoids, each with different properties and potential benefits.
When should I drink TRIP?
All day every day! COLD BREW COFFEE is great for a caffeine kick to start the day or pre workout. We love PEACH GINGER to reset when the afternoon slump hits. TRIP is sociable and can be enjoyed anytime, solo or mixed into cocktails (Gin TRIP anyone?)! Get creative + you do you.
Do you third party test your products?
Yes all of our products are third party lab tested to ensure the highest quality and purity. These lab results confirm the amount of CBD in our oils and drinks. Any questions for us, always get in touch!
How much TRIP CBD should I take?
Dosing is really personal - similar to how caffeine or alcohol can affect everyone differently. Feel free to start a new ritual and start with a lower regular dose (15-30 MG per serve), note how you feel and dose up with additional drinks or oils if you would like to double down.