TAKE A TRIP TO HAPPY DAYS
Use code UNWIND20 for an exclusive 20% off your first order - only £1.18 a drink and less than £1 per oil serving.
THE FASTEST GROWING SOFT DRINKS BRAND IN THE UK IN 2023
WHY CHOOSE TRIP?
1
---
94% of our customers would recommend us to their friends or family
2
---
61% of our customers tried TRIP as an alcohol alternatve. Our CBD drinks can make you feel more productive and less stressed
3
---
CBD is the non-psychoactive compound found in hemp plants. Unlike THC, CBD will not give you a high. We are third-party lab tested to make sure it's THC-free, and the highest quality and purity.
4
---
Our CBD is also gluten-free, palm-oil free and vegan - happy days.
10,000 5* REVIEWS ON OUR 3X AWARD WINNING CBD DRINKS
CBD Starter Set
CBD Starter Set
New to CBD or new to TRIP? Our CBD Starter Set includes the UK's number #1 CBD Drinks and best-tasting CBD Oil.
Our bundle includes ELDERFLOWER MINT, PEACH GINGER & LEMON BASIL CBD Drinks (6 or 24 Packs), plus our ORANGE BLOSSOM CBD Oil (1000mg) ✌️
Mixed CBD Drinks
Mixed CBD Drinks
Meet our award winning drinks, with our 3x Great Taste award winning flavours ft. ELDERFLOWER MINT, PEACH GINGER & LEMON BASIL.
Deliciously refreshing and a convenient way to relax and unwind - we'll drink to that!
OVER 20 MILLION CANS SOLD WORLDWIDE
Why our CBD drinks are the UK's favourite alcohol alternative
Alcohol
Hangovers & hangxiety likely
High Calorie:

239 kcal for a pint of beer
190 kcal for a glass of wine

Disrupts healthy sleep
Not always Vegan!
TRIP CBD Drinks
No hangover or hangxiety
Low calorie:

21 kcal or less, per can

No negative sleep effects
100% Vegan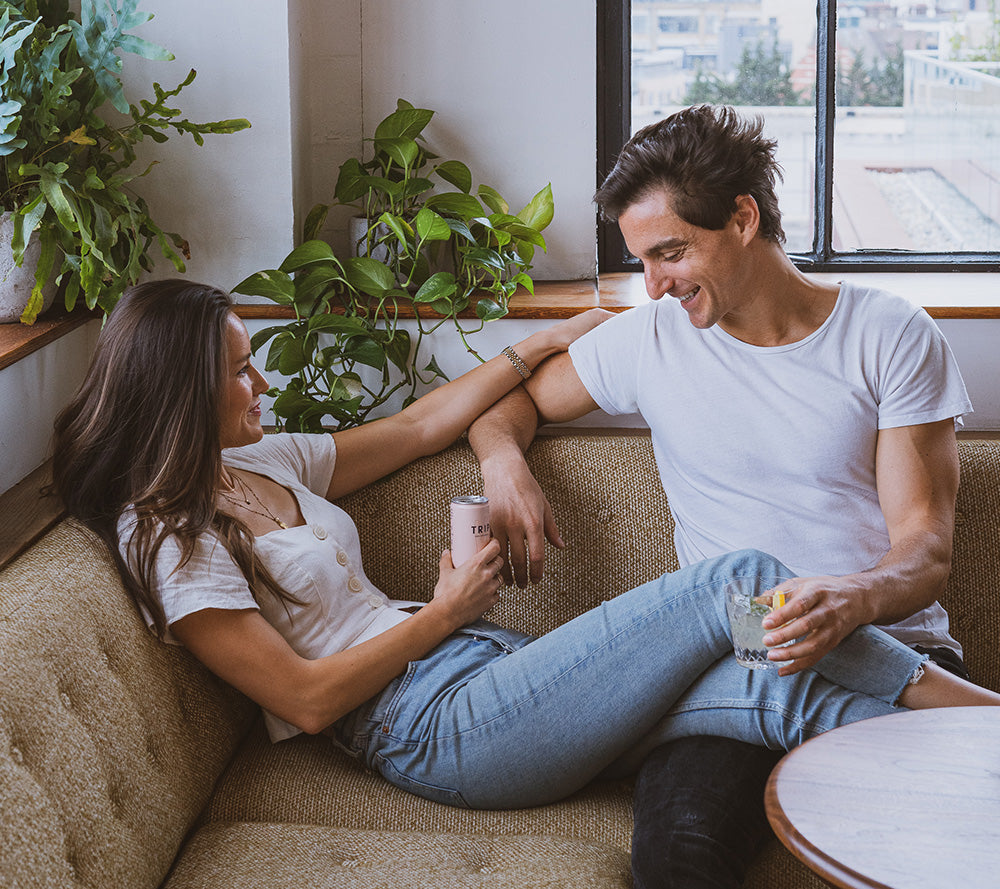 Our story
We created TRIP to share a little bit of calm in the everyday chaos, because we believe that mental health is intrinsic to good health.
TRIP's story started when Dan was injured playing football weeks before our wedding, he couldn't walk - nightmare! We discovered CBD was a game changer and he made an incredible recovery.
We began using CBD for everyday stress created a range of CBD products that tastes delicious and fit effortlessly into our lifestyles, and we hope yours too!
We've loved introducing millions of people to their first CBD experience, and the incredible response from our community is what motivates us - so join us and take a TRIP.