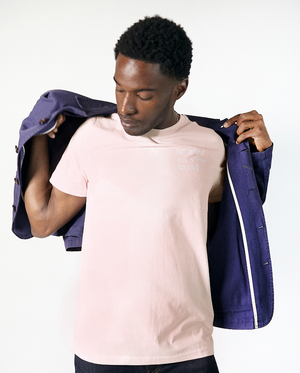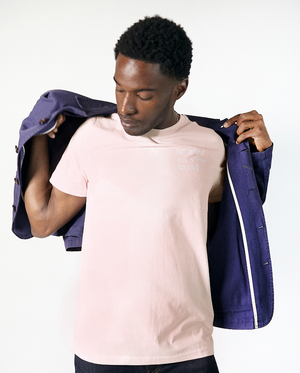 Be Kind To Your Mind Tee in Pink
Description
Meet our Be Kind To Your Mind Tee in pastel pink. Made from 100% organic ring-spun combed cotton with a drop-sleeve 1-inch rib at the neck and wide double needle topstitch at the sleeve and bottom hem. Say it loud and send good vibes to all, be kind to your mind in our positivi-tee. 
Julia wears M, Efosa wears L.
...Read More
WHAT PEOPLE ARE SAYING ABOUT OUR Be Kind To Your Mind Tee in Pink
FAQ
What is CBD
CBD (cannabidiol) is the non-psychoactive compound found in hemp plants. Unlike THC (tetrahydrocannabinol), CBD does not get you high.
Will it get me high?
No. CBD cannot get you high. Unlike THC (the component in the hemp plant that has psycho-active effects), CBD cannot get you high. Made in the UK, our products are made with the highest quality ingredients, with no THC.
Is CBD legal?
CBD is completely legal in the UK, provided it's been derived from an industrial hemp strain that's 'EU-approved' or comes from outside the EU. For CBD to be legal in the UK, it must contain no THC. However, many CBD products on the high street aren't always properly authorised. So when you're looking to buy CBD oil, CBD drinks or other CBD products, it's best to buy them from trusted sources, pharmacies and stores.
What is your Endocannabinoid system?
Our bodies have an endocannabinoid system (ECS) - your ECS is a network of tiny receptors found throughout the body that play a crucial role in regulating the body's optimal balance, this may include our sleep, stress, anxiety, immune system, pain and inflammation. So when your ECS is back in balance you may feel more productive and creative, less anxious and stressed.
What are Cannabinoids?
Cannabinoids are naturally occurring compounds found in the cannabis sativa plant. The two most well-known cannabinoids are tetrahydrocannabinol (THC) and cannabidiol (CBD), but the cannabis plant produces over 100 cannabinoids, each with different properties and potential benefits.
Do you third party test your products?
Yes all of our products are third party lab tested to ensure the highest quality and purity. These lab results confirm the amount of CBD in our oils and drinks. Any questions for us, always get in touch!
How much TRIP CBD should I take?
Dosing is really personal - similar to how caffeine or alcohol can affect everyone differently. Feel free to start a new ritual and start with a lower regular dose (15-30 MG per serve), note how you feel and dose up with additional drinks or oils if you would like to double down.
When to take CBD?
The simple answer is any time you want! As a general rule, we recommend taking our CBD oils first thing in the morning and before you go to bed at night. Our CBD drinks can be enjoyed throughout the day and evening to help you unwind after a busy day, without the hangover.
In the USA?
it looks like you are in the USA, do you want to be redirected to our USA site?
Let's go