As we are getting closer and closer to the end of 2020, one thing we all can agree on that this year challenged all of us one way or another. As we are spending more time indoors, it is even more important to look after our health. In the UK, we started the second lockdown. Most of us have to transfer to home office. To bring something positive to this time, why don't you try something new! Like that morning workout that you "never had time before work." or some plant-based meals.
I have teamed up with Chloè Hamard, an online entrepreneur and personal trainer. To give some advice on how to stay motivated during this time. She also put together an easy 15 minute morning workout that you can do every day at home without any equipment.
THE POWER OF EVERYDAY EXERCISE
My name is Chloe, I'm French but I've been living in the UK for almost 4 years now. Fitness became my passion and a huge part of my life in my early twenties when I got into resistance training. It changed my body but also my mindset boosted my confidence and the benefits carried over into my everyday life. It's not only about looking a certain way, it's also and most importantly about feeling good and looking after yourself. It's a form of self-love and it's why it's part of my routine. I wanted to help women experience the same benefits, so I decided to make fitness my career about two years ago. I started by working at a gym and since this year I've been focusing on online coaching.
Through my Thrive Strong online coaching program, I help busy women make fitness work around their lifestyle, achieve their fitness goals the right way and learn the foundations of diet and exercise. It includes personalized workouts (home or gym), nutrition coaching, weekly check-ins and on-demand support. I also offer personalized workout programs for people who just want custom workouts.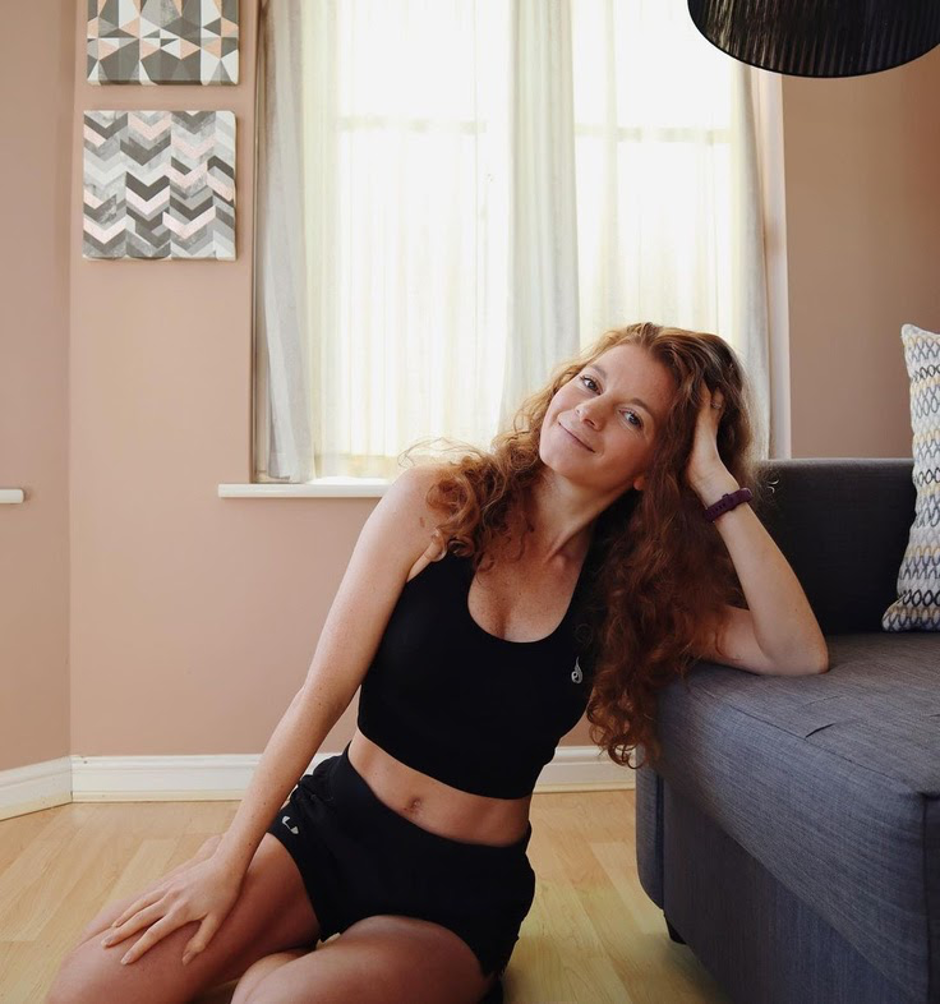 When is the best time to exercise when you are working from home?
I'd recommend exercising in the morning if possible, especially if you struggle with motivation. The more you wait, the more you increase the risk of skipping your workout. Plus, starting your day with a workout makes you feel accomplished and ready to tackle your workday.
Chloe'S top 3 tips to stay active & Healthy
Schedule your workouts in your diary. Exercise is as important as meetings and you should set time aside for it too. Try to average 10,000 steps per day. Walk to the shops when possible, go on a post-lunch stroll, plan a long forest walk on the weekend... You can even challenge yourself to increase your step count every week. Following a workout program a running plan, or attending online fitness classes can really help you stay consistent and active through winter.
Bodyweight circuit for all levels.
Perform every exercise back to back: that's one round. Perform as many rounds as possible for 15 minutes, trying to limit your rest periods between rounds. As you get fitter, you will naturally need less rest. You can even increase the total time to 20 minutes.
8 press-ups (incline press-ups for beginners)
10 squats
20 reverse lunges - 10 each leg
20 single leg bridges - 10 each leg
20 mountain climbers 1 min plank (30 seconds for beginners).
Always ensure to warm up and cool down!